今天羽西郑重给大家推荐一套英美国家非常流行的数学课外辅导书:Murderous Maths,中文叫作"致命的数学"。也是一个非常偶然的机会听到孩子同学的家长推荐,就自己在网上查了一下,没有想到这套书名气这么大。于是毫不犹豫的出售买了一套。孩子也是非常喜欢,对这本书爱不释手。呵呵,省了我不少时间,很多数学知识他自己就学会了。。。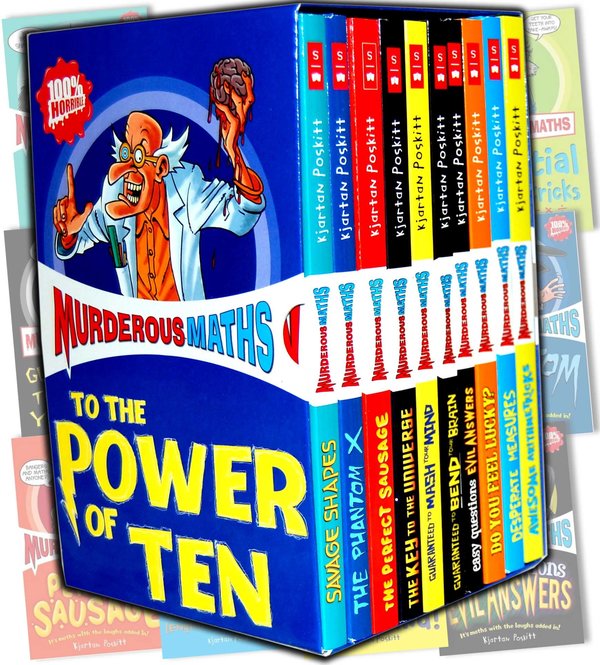 这套书的作者是英国著名的儿童科普作家 Kjartan Poskitt,主要针对的是7-14岁的孩子,用来启发孩子们对数学的兴趣。和普通的教科书不一样,这本书的教学方式有点"离经叛道",但却是孩子们的最爱。内容涵盖了这个年龄段孩子们所需要了解的几乎所有数学知识。下面来看看这本书的作者是怎么说的:
To write math books that are "something funny to read", have "good amusing illustrations", include "tricks", and "explaining the maths involved as clearly as possible".
首先,这本书要读起来非常有趣,要有好玩的各种插图和展示方式,还包括一些"小技巧",但是,要非常清楚的解释各种涉及到的数学知识。也正是这套书与众不同的构思,能够迅速的吸引小朋友们的眼球,让他们在不知不觉中爱上了这本书,爱上了数学。可能这就是教育的最高境界吧,润物无声。。。现在Murderous Maths已经被翻译成了二十多种语言,成为全球畅销的数学科普读物。BBC还根据这本书制作了一系列的教育专栏,由书的作者Poskit亲自为孩子们讲解数学知识。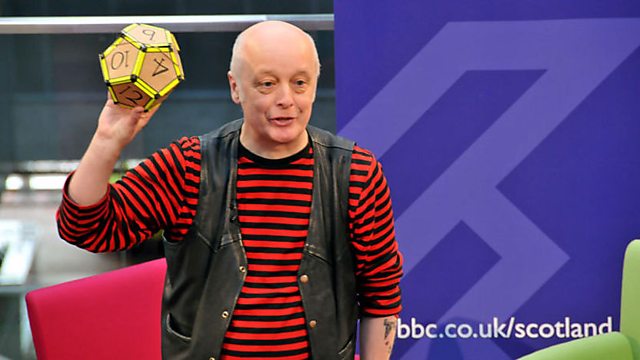 下面带着大家一起来看看一种的一套书:"The Power of Ten",这就本文第一张图片里的书。这套书一共有10本。在讲解算术,几何,概率,测量等数学知识的同时,教会孩子们如何把这些数学概念融会贯通。还是来看看作者是怎么说的吧:
You'll find yourself picking up all sorts of advice and tips on how to cope with maths in all its various forms.
你会学到和各种不同形态的数学打交道的建议和技巧。
1) Murderous Maths Guaranteed to Bend Your Brain
This is the book that started the whole Murderous Maths series. It contains a wide mixture of mathematical curiosities including symmetry, powers, time, and ….. it shows you some neat calculator tricks and a card trick that works all thanks to algebra! It even introduces you to some real murderous mathematicians.
这是Murderous Maths系列中的第一本书。它包括了几何,时间等概念。他还会通过代数教会你很多计算的小窍门。甚至里面你还会接触到一些真正的数学家。
2) Murderous Maths Guaranteed to Mash your Mind
This book carries on where the first Murderous Maths book finished.
这本书继续第一本中的故事。
3) The Awesome Arithmetricks
For people who aren't sure how sums work, this book explains the very basics. It starts with counting and then takes a hilarious tour through adding, subtracting, multiplying and even long division!
这本书中介绍了如何进行加法、减法、乘法、还有除法运算。
4) Desperate Measures
Everything can be measured, and this book tells you how to do it. Length, area, volume, weight, time, density, curry stains, speed … they're all in here.
所有东西都是能够测量的。这本书将告诉读者如何进行各种测量。包括长度,面积,容量,重量,时间,密度等等等。
5) Do You Feel Lucky?
What are the chances of:
tossing a coin ten times and always getting "heads"
a pigeon splattering you at the station
winning the lottery
throwing 3 doubles and going to jail in Monopoly?
a monkey typing this book?
Discover all the secrets of being lucky or unlucky including what factorials are and the amazing Pascal's triangle.
这本书向孩子们展现了一个神奇的概率世界。比如:如果掷一枚硬币10次而次次都得到正面的概率是多少?买彩票中奖的几率又是多少?
6) Savage Shapes
This is probably the only maths book you'll ever read that has ABSOLUTELY NO SUMS!
But there's plenty of other stuff to keep maths fans happy…
What ancient drawings lie in the secret Murderous Maths vault?
Why don't triangles collapse?
How does a Whispering Gallery work?
How do you fold a pentagon?
What sort of tricks can you play with circles?
Who is finally brought to life after 2,500 years and put on trial for giving us all centuries of mathematical misery?
这本书介绍了各种几何图形的特点。比如:为什么三角形特别稳定?对于圆形有什么特点和小窍门呢?如何能折出一个五边形?
7) The Key to the Universe
You can't touch them, you can't eat them, you can't sit on them and on their own they mean absolutely nothing. But the more we know about numbers, the more we realise that everything in the universe depends on them!
This guide takes you to the secret world of trick numbers, weird numbers, lucky numbers, ridiculously big numbers, numbers that you can't write down - there's even ghostly numbers and pairs of numbers in love!
这本书带你进入数字的神秘世界。什么是奇怪的数字,什么又是幸运数字?超级大的数字?没法写下来的数字?幽灵数字?相爱的一对数字?
8) Phantom X
QUESTION: How do you do sums when you don't know what the numbers are?
ANSWER: You need to learn the secrets of one of the most murderous bits of maths ever invented - algebra!
All will be revealed by the mysterious "The Phantom X", the undercover agent for Murderous Maths who is licenced to cancel. Then once you've discovered all about unknowns, factorisation, simplification, graphs, linear, quadratic and simultaneous equations, you'll be able to save the universe from the devastation threatened by the awesome ZERO PROOF.
这本书则是非常好的一个代数的启蒙书。书中从一个问题开始:对于不知道的数字怎样求和?进而介绍了好多代数的概念。
9) The Perfect Sausage
This book contains just about every maths formula you'll ever need … and loads more that you'll probably NEVER need!
As well as all the obvious formulas for area, volume, speed, acceleration and peculiar numbers, you'll get formulas for:
the area of a crescent moon
the lengths of snail trails round boxes
how many ways you can tear up a sheet of stamps
how long it takes for cannonballs to drop from great heights
exactly how much MONEY the bank should give you.
All formulas come with explanations, you'll find loads of different maths topics explained and there's even an index so that you can quickly find any formula you want.
这本书则是对各种数学公式的一个大盘点。除了最基本的公式,比如:面积,体积,速度公式等,如何计算月牙形的面积?
10) Easy Questions Evil Answers
Have you got a question bothering you that seems nice and easy, and yet nobody will give you an answer? It's probably because even though the question might look easy, the answer is EVIL!
Don't worry. In this book Murderous Maths takes on the questions that nobody else dares to touch and we work out all the evil answers.
这本书则是会介绍数学中的一些特例。
好了,先介绍到这里。强烈推荐这套丛书,让孩子有一个不同的角度来学数学!下面给出Amazon购买页面。
未经授权,严禁转载。
羽西欢迎大家投稿分享英国生活,邮件:
[email protected]
如果您觉得我的文章对您有所帮助,愿意请我喝杯咖啡:
BTC: 1B5cfrKsHZVwZCnvQR6o9SXRaDfNWGHQmd
ETH: 0xfFAE39dA418bfa94018C00A4A5eb6A8ddc6Bcf5c